Halloween Cooking Party for Kids & Parents!"
Thank you for comming!
* * *

Come and join us at "Halloween Cooking Party for Kids & Parents!", a fun cooking and interactive program for kids and their parents. Meet up with families from Japan and different countries in a fun and friendly atmosphere, and enjoy the opportunity to have cultural exchanges. You can dress up in your best Halloween costume ever!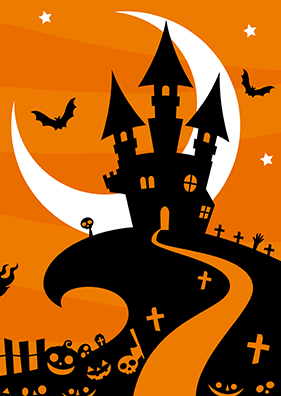 Date: October 24, 2015 (Sat.) 14:00-16:00
Location:Benesse English School Nishi-18Chome school

New Life Odori 2bankan Bld. 3F, 15-3-5 Odori Nishi, Chuo-ku, Sapporo
2 min.-walk from exit #5 of Nishi-18 chome subway station (Tozai line)
Eligibility: Children from 3 to 12 years old with their parents (Children over 9 years old are eligible to participate without parents)
Nursery Services:Not available
Fee: Free
Maximum seating capacity: 24 people
*We will hold a drawing to determine seating.
Things to bring: Apron and Towel
How to apply
Please proceed application process by clicking this button.
↓Click this button to apply

In case of too many applications, we will hold a drawing to determine seating.
The application form must be sent by October 17, 2015 (Sat.).
We'll inform you the draw result by October 19, 2015(Mon.).
*You need to dress up in Halloween costume.
*Facilities don't have a dressing room. Dress up at your home, or select the costume can overlap on your daily clothes.
*Children under 8 years old must be accompanied by parents.
*Menu and activity may change without prior notice.
* * *
《Activities》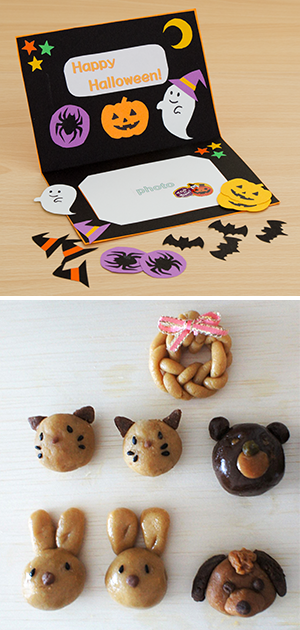 ◆Halloween card craft
Let's make a cute Halloween message card. You can also put a favorite photo in it. You don't have to use a knife and scissors since all materials are ready to be glued beforehand. Even pre-school children can be fun!
◆Trick or Treating
Set your Halloween costume on, and go out to get favorite treats! Can you cheerfully say "Trick or Treat!"? Children will be divided into some groups, and our staff will lead each group to go to the neighbors. It'll be a good chance to take pictures/movies for their parents ♪
◆Halloween Cooking
-Kinako Soft Candy-
Enjoy making Kinako Soft Candy! Kinako is a powder which is made from ground soy beans. Let's make yummy Halloween characters or animals! All ingredients for soft candy are natural product.
Ingredients: Kinako(ground soy beans), malt syrup, white chocolate, cocoa powder, green tea powder, pumpkin powder, sesame
* * *
*We take care to select snacks and ingredients for cooking to prevent food allergies, but it is difficult to consider all individual situations of participants. Parents must have responsibilities to decide which snacks are good to eat or not for their children.
*You can't take Kinako Soft Candy home. Please eat all at the event.
*We may use the photo of the event on our website and our advertisement.
*We don't disclose your personal information to the third party without your permission.
↓Click this button to apply